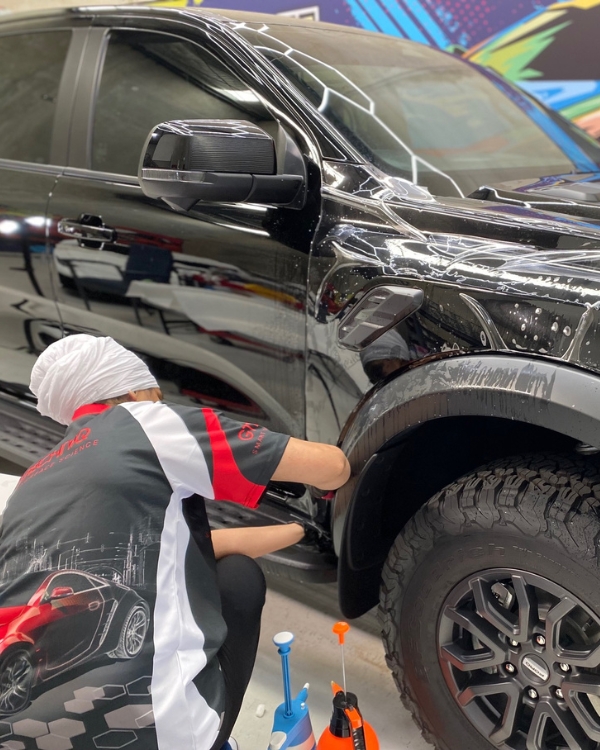 Our Paint Protection Film (PPF) majorly protects your car with any sort of damages on the paint, be it due to the weather, scratches, bird waste or stone chips! The durable nature of the film helps guard against scratches and chips caused by rocks, road debris, insect splatter, and other hazards encountered during daily driving.
We use Suntek's Paint Protection Films, designed to provide a high level of protection while maintaining the aesthetic appearance of the vehicle. The film is typically transparent or nearly invisible, allowing the colour and shine of the vehicle's paint to show through. This invisible coating provides protection to the bumpers, the bonnet, side mirror casings, front roofline, door sills, door handle cups, and side mirror coverings. The coverage depends on the package you move forward with.
Our SunTek Paint Protection Films have self-healing properties. This means that minor scratches or swirl marks on the film can repair themselves when exposed to heat, such as sunlight or hot water.
PACKAGES
CHOOSE FROM OUR RANGE OF PACKAGES
This package involves an entire front coverage which certainly is the most suitable option.
PAY 20% DEPOSIT TO BOOK A PACKAGE
This package forms a comprehensive coverage for your car and that is the reason it is essentially becoming popular amongst our esteemed customers. Choosing the complete kit for your car is sure to cater to all your car protection requirements.
PAY 20% DEPOSIT TO BOOK A PACKAGE
This full custom design kit is specifically designed to suit your needs. The custom option lets you decide your preferences.
PAY 20% DEPOSIT TO BOOK A PACKAGE