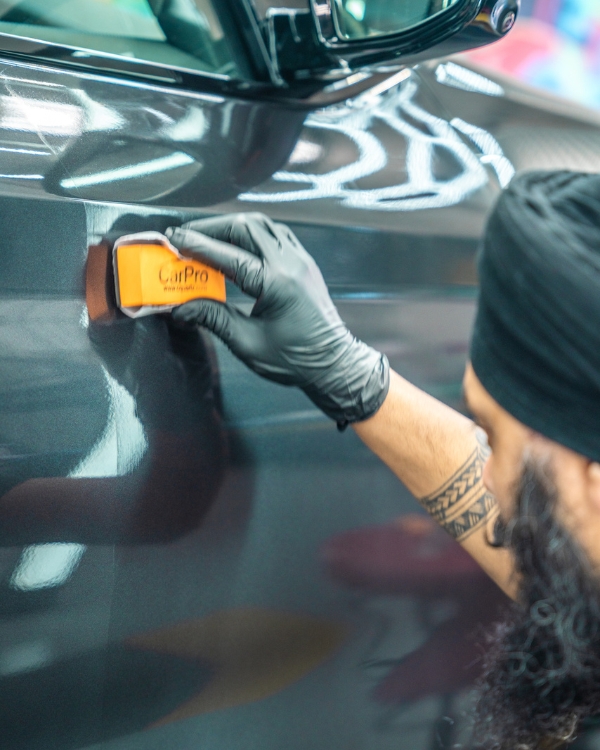 We use Gtechniq Ultra, a high-end nano-technology based glass coating which protects your cars for years to come. This ceramic coating is designed to provide long-lasting durability, gloss enhancement, and resistance to environmental contaminants. Gtechniq's ceramic paint protection coatings typically utilise nanotechnology to create a strong, transparent layer on the vehicle's paintwork. This layer bonds with the surface, creating a barrier that helps protect against scratches, UV damage, bird droppings, road tar, and other types of contaminants.
When we perform the ceramic paint protection technique, the semi-permanent glass coating formed gives a shine to the car which is incomparable to the other protectants. Wash it umpteen times with any sort of cleaners, yet it will stay intact. On top of this, Gtechniq Ultra resists scratching and minor marring both from maintenance washing procedures and in general driving use.
Look no further and be a part of the new generation of car care with Gtechniq Ultra.
PACKAGES
CHOOSE FROM OUR RANGE OF PACKAGES
This ceramic paint protection package is applicable for new cars only, offering a comprehensive coverage. Apart from the base price, heavy swirl cars will incur a correction fee of $300.
PAY 20% DEPOSIT TO BOOK A PACKAGE
CERAMIC INTERIOR PROTECTION
This package ensures increased protection for the interior of your car and gives it a thorough clean.
PAY 20% DEPOSIT TO BOOK A PACKAGE